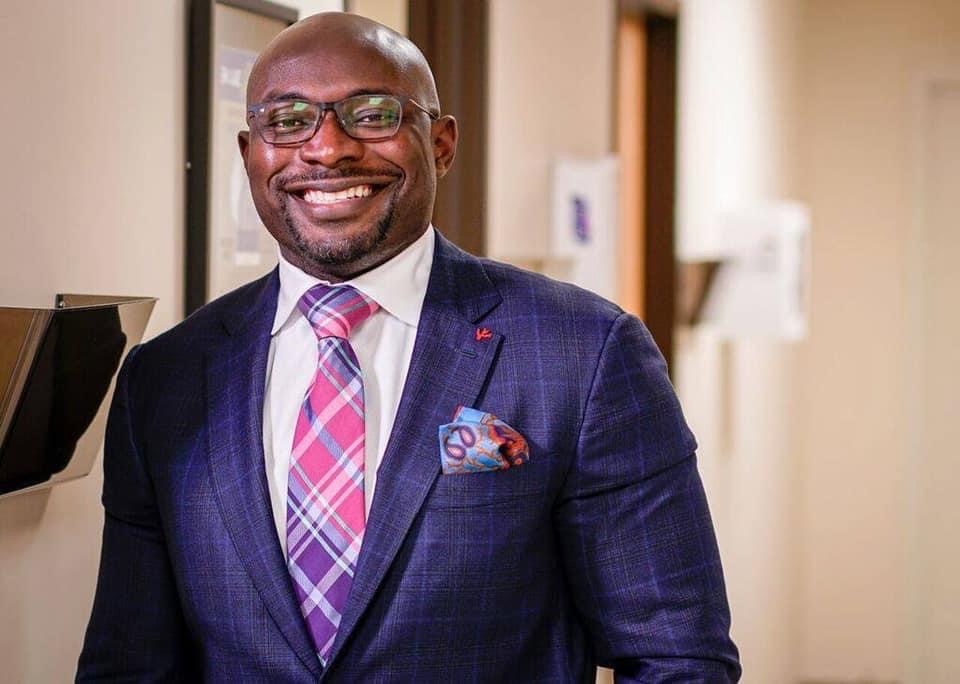 Dr. Foluso Fakorede, Physician, Entrepreneur and Advocate for health care injustice spent his formative years in Nigeria and immigrated to America as a young teenager. A standout student, he obtained a Bachelor of Arts in biology and a minor in economics from Rutgers University. Then he received his medical degree from UMDNJ-Robert Wood Johnson Medical School in Camden, New Jersey. He completed internship and residency in internal medicine at New York Presbyterian Weill Cornell Hospital. Dr. Fakorede returned to New Jersey to complete fellowship in cardiology, interventional cardiology, and endovascular intervention at Cooper University Hospital- Camden, New Jersey. During his fellowship, Dr. Fakorede was honored with the distinction of Chief Cardiology Fellow. Dr. Fakorede specializes in preventative cardiovascular management, women's heart health and catheter- based procedural focus in coronary atherosclerosis disease (CAD) and peripheral atherosclerosis disease (PAD). He currently serves on the Society of Cardiac Angiography and Intervention (SCAI) vascular disease committee and as part of the American Heart Association (AHA) Patient Advocacy Group.
In 2015, Dr. Fakorede started Cardiovascular Solutions of Central Mississippi with a mission to educate and provide access to quality health care for all. He has become a national voice in the fight against the impact of health disparity in underserved communities. As the Co-chair of the Association of Black Cardiologists' (ABC) PAD initiative, Dr. Fakorede has been at the helm of working with Congressional lawmakers to establish the first ever bipartisan PAD caucus whose mission is to support legislative bills to stop the virulent practices of preventable amputations and to educate communities about legislative activities aimed to improve PAD research, education, and treatment.
In 2018, as part of a congressional delegation, Dr. Fakorede testified on Capitol Hill in Washington D.C., regarding the epidemic of peripheral arterial disease and spearheading a "sprint to zero amputation campaign" with policy actions proposed to stop unnecessary amputations. In October of 2018, Dr. Fakorede traveled to Cuba as part of Congressional Delegation (CODEL) to discuss the impact of diabetes management on the peripheral arterial disease pandemic. Dr. Fakorede has established partnerships with law makers, community, industry, university, and faith-based stakeholders to facilitate cardiovascular education, promote nutrition coaching, highlight social determinants of health, improve access to quality care and engender trust in the underserved communities. These preventative initiatives, aggressive screening adaptations and quality intervention strategies have led Dr. Fakorede to decrease amputations rates by 88% over a 3-year period in his site of service in the Mississippi Delta. This accomplishment has been highlighted in the ProPublica article, "The Black American Amputation Epidemic", published on May 19, 2020. This article reached a potential of 300 million on "NBC Nightly News with Lester Holt" and CBS News Network. This important article addressing unnecessary amputations has been reprinted in Medpage Today, AJMC, The Hill and Fierce Healthcare and was also featured by the Harvard School of Public Health. Dr. Fakorede is the lead author of the Society for Cardiovascular Angiography and Interventions (SCAI) Disparities White Paper.
Dr. Fakorede's work for health equality has been highlighted by Business Insider, Men's Health Magazine and Reader's Digest. He was honored by The ROOT 100 most influential African Americans 2020 and also invited to become a member of the Men's Health Magazine Advisory Board. Dr. Fakorede has become the PAD advocate with a purpose that is impacting the lives of the forgotten and voiceless and ultimately eliminating health care disparities.
"Of all forms of inequality, injustice in health care is the most shocking and inhumane."
Dr. Martin Luther King, Jr.